Discover the product
Ground protection mats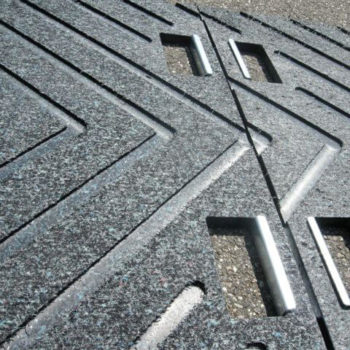 The STABline roller plates guarantee optimum protection for work on vulnerable or unstable floors.
They allow you to realise temporary way or platform of work for the access of all vehicles and all machines by ensuring you the maximum of stability and safety. Their light weight and integrated handles will allow you a fast and safe installation.
Order now!
Ground protection mats and
temporary access
Les plaques de roulage sont un revêtement idéal pour réaliser un chemin d'accès temporaire. Elles permettent à la fois la protection des sols vulnérables (gazon, bitume, pavés…) et facilitent l'accès aux chantiers sur des sols instables (boue, neige, sable).
Le chemin temporaire déployé facilite l'accès aux zones d'intervention – chantiers et aménagements paysagés – et protège votre environnement de travail.
Our range of roller plates creates way for all types of vehicles and machines. Depending on their weight and load capacity, we recommend the use of the following ground protection mats:
Ground protection mats plates are linked with connectors.
Bolted connectors are available for medium to long term or intensive use.
Metal U-connectors allow for quick and easy installation.